The Life of a Pantomime Dame An interview with Hywel Dowsell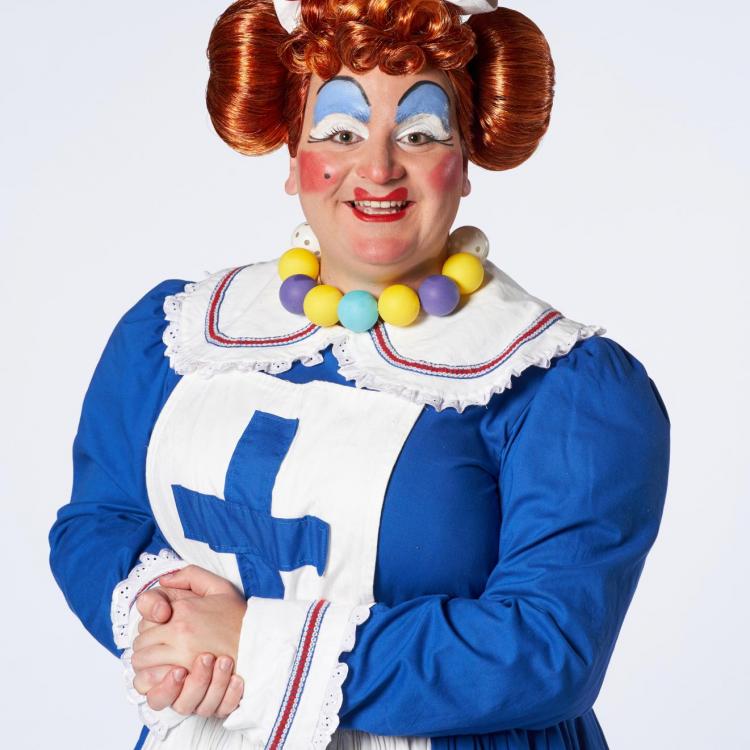 Martin Beddall
"Pantomime is a lot of fun for an actor, but remember that every comic beat has to land with the audience and the storytelling is very important..."
On a cold, sunny, autumn afternoon we caught up with BA Musical Theatre graduate Hywel Dowsell ahead of another Christmas season playing a Pantomime Dame.
Hywel, how did you break in to the world of Pantomime?
When I graduated from The Guildford School of Acting, I had a rough idea of some of the roles I would like to play in my career and I can honestly say that playing a Pantomime Dame didn't feature on the list at all. I was inspired to become an actor by seeing some fantastic productions when I was younger and it was a family tradition to visit the local Pantomime every year. I can remember seeing the late John Inman give his Dame in Cardiff many years ago and something about his performance has stayed with me until this day, so I guess the Pantomime Bug bit me very early on.
My agent called me with an audition for a Pantomime and the company was casting for Dames and Ugly Sisters. After getting over my initial nerves of diving in to this unknown territory, I gave the best audition I could and felt it went pretty well. I thought to myself, if anything comes from this audition, I might be offered the role of an Ugly Sister so that I can work with a seasoned professional and learn the tricks of the trade. However, that wasn't the case; I was thrown straight in to the deep end with the offer to play the Dame in Peter Pan, and I've never looked back!
When do you start preparing for a Pantomime contract?
As soon as the curtain falls on the final performance of a pantomime, preparations begin for the following year. Depending on the character you would play, auditions for principle roles, including the Dame, could be as early as the end of January or February with chorus and dancer roles being filled later in the year. There are lots of reasons for this and one important factor is the poster photo-shoot.  This often happens in the summer months and it can be quite confusing pulling poses for the poster when it's thirty degrees outside!
You mentioned that you are committed to a production very early on. How does that fit in with your other acting work?
That's a very good question. Having built up a small reputation as a Pantomime Dame, I now find myself in a position where I am offered contracts, based on my previous work as well as auditioning for other companies and this helps when you are trying to remain as available as possible for other projects. Some actors establish a relationship with a particular theatre and return year after year to play the Dame in Pantomime and do other projects throughout the year. I am still an actor who actively auditions and my agent often negotiates a term in my contract so that if I am offered a job that has a longer run for example, I am able to go and do it, and this often has to be decided before the photo-shoot date. As a result of this, some years I am playing a Pantomime Dame, and other years I could be in a play or musical; I like to mix it up.
What is your favourite thing about playing a Pantomime Dame?
Where to start? The whole experience is some of the best fun I've ever had on stage. I am a big fan of all things comedy, and to have a full house of families laughing with you is brilliant. The audience is on your side straight away as soon as you get the first laugh with your outrageous outfit. I get the opportunity to play alongside some of the best talent in the industry and I always have great fun picking out an unsuspecting gentleman on the front row and delivering hilarious jokes.
In contrast to this, what is the most challenging part of the Dame role?
The job comes with its own unique challenges. The performance schedule can be tough, so keeping your health in tip-top condition is very important; there will be no runny noses on the night! Also, as a Dame, you're on stage quite a lot and I always like to have a different costume for every scene (it's one of the perks of the role, I suppose), so you burn a lot of energy running around and doing quick-changes in the wings. Last year I had around twelve costume changes. You certainly get good at taking your clothes off very quickly when you play a Dame.
Can you tell us briefly about a typical Pantomime rehearsal process?
The first thing I'll say is that the rehearsal period is very short, usually around ten days and I always do my best to get "off book" so that I can go into rehearsals confident enough to work without holding a script. This helps to free you up and be much more confident with the comic timing earlier on. The first day of rehearsals usually consists of meeting the whole cast and team involved with the production, followed by a full read-through of the script. After lunch, we dive straight in with music learning and staging of the scenes. The ensemble dancers usually work separately to the principle cast for the first few days so that they can learn all of the choreography, speeding up the process. Once everything has a shape to it, we start knitting together the musical numbers and slotting in the principle cast and juvenile dancers who have also been working separately. Once a few famous Pantomime routines such as the "ghost gag" or "slosh scene" have been slotted in, the band rehearsed, the set built, lights plugged in, and with a bag of Panto magic, we're ready for an audience… It's as easy as that… In theory.
Any advice for actors who are stepping in to Panto Land for the first time?
My advice would be to honour the tradition and have fun. Know you're character's role within the Panto; are you the romantic lead, the comic, the dame, the baddie? Each has their specific role within a Panto. Oh, and of course, do your research, see as many pantomimes as you can and learn from the best. Pantomime is a lot of fun for an actor, but remember that every comic beat has to land with the audience and the storytelling is very important. Pantomime is often the first experience of live theatre people have so allow yourself to feed off that excitement and I promise you, like me, you'll never look back!