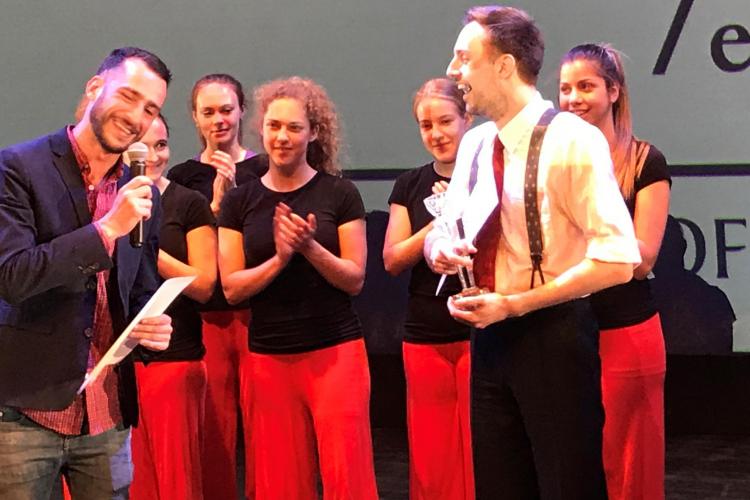 The GSA Gillian Lynn Choreography Competition took place on Friday night showcasing the incredible choreographic talent of students from across GSA. 
We were delighted to welcome Carlos Pons Guerra, the world-renowned choreographer, as our judge this year. Carlos had an incredibly difficult task choosing a winner from many exceptional creations.
Congratulations to Laurie Denman, (BA Musical Theatre Final Year), for winning and judge's special mention choreographed by James Nicholson performed by Laura White and Laurie Denman, (both BA Musical Theatre). Carlos also praised Lizzie Nance's beautiful dancing (BA Musical Theatre, First Year).
Carlos Pons Guerra was born in Gran Canaria, Spain, and has been creating dance since 2012, year in which he founded DeNada Dance Theatre. Nominated for the Best Emerging Artist category at the National Dance Awards 2015, he has been described as a choreographer "of innate intelligence and theatricality" by Dance Europe Magazine. 
Carlos was a guest choreographer at Northern Ballet's 2016 Choreographic Lab. He works closely with dramaturge Peggy Olislaegers and is mentored by choreographer Annabelle Lopez Ochoa. Amongst his artistic idols, he counts Pedro Almodóvar, Kenneth MacMillan, Roland Petit, John Waters, Chavela Vargas and Tennessee Williams. He is hugely inspired by film, art, literature and people; and enjoys creating kitschy, darkly humorous and entertainingly theatrical worlds in the works he stages.  Carlos began his ballet studies at the Choreographic Centre of Las Palmas, under direction of Carmen Robles and Anatol Yanowsky, before training at the Royal Conservatoire for Dance of Madrid 'María de Ávila' and the Northern School of Contemporary Dance in Leeds. During his dance training he also read for a BA (Hons) English Literature through the University of Leeds and the Open University. He was raised in Gran Canaria and moved to the UK in 2005.   
More info about Carlos Pons Guerra and the DeNada Dance Theatre