Wednesday 7 February 2018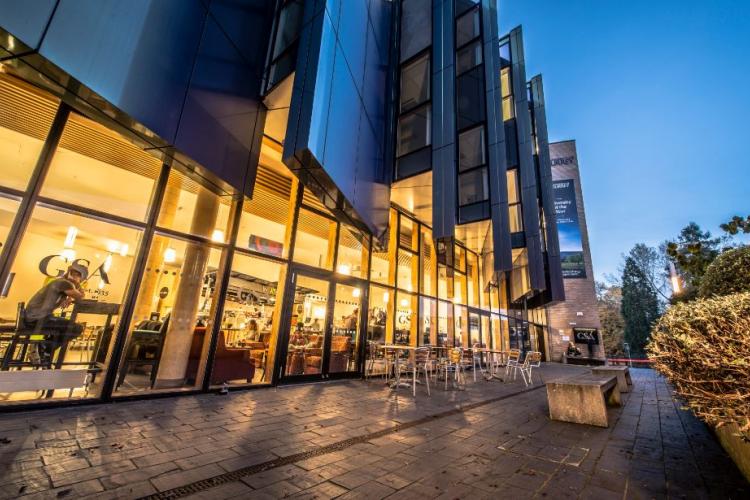 GSA is situated on the University of Surrey's beautiful campus, offering students state-of-the-art purpose-built facilities within a lively university environment, just ten minutes' walk from Guildford town centre and only 34 minutes from central London by train.
As part of the University of Surrey, GSA students have access to some of the best facilities in the UK on campus including: purpose built state-of-the-art studios, the £4.5million Ivy Arts Centre which includes a 200-seat theatre, on-campus accommodation, access to the £36million Surrey Sports Park and the recently refurbished Library and Learning Centre which has seen investment of £16million over the last 5 years.
Students at GSA have access to purpose-built studios and tutorial rooms within the GSA building and across the University campus. Productions are predominantly staged in the Ivy Arts Centre on campus. The Ivy Arts Centre houses a 200-seat theatre and 50-seat studio space, both with professional standard sound and lighting; as well as dance studios, rehearsal rooms and a full costume department. Students also have access to state of the art black magic film cameras and a TV studio.
GSA productions are also presented in theatres and venues in and around Guildford and London. These venues include the renowned Yvonne Arnaud Theatre, The Mill Studio and The Electric Theatre in Guildford, and various venues in London's West End including the Shaftesbury Theatre, Leicester Square Theatre and the Soho Theatre.
The ThEATre coffee shop is situated within the GSA building, serving Starbucks coffee and a selection of hot and cold healthy food. In addition there are a wide selection of coffee shops and food outlets on the University campus, including a weekly farmers market.