"From the show relay in the dressing room we hear the half-hour call and in the distance there's the mumble of an excited audience, underscoring the usual Pantomime house-music of Well I Wish It Could Be Christmas Everyday, and such like; that's when the real excitement begins!
I've been playing the Dame in Pantomime for a few years now and this year, I am joining the creative team as the assistant director; this is often common practice for Panto productions as they could be directed and written by the actor playing the Dame. I am hoping all that will be to come but for now I'm concentrating on assisting and playing the Dame in this year's Pantomime, Beauty and the Beast.
Pantomime, for some, means a six week long Christmas which for someone like me is my idea of Heaven, but preparations start longer before rehearsals begin in November.
It's always exciting when you get asked to come in for a photo-shoot to complete the poster design. This means turning up, usually in the summer months, slapping on that colourful make-up and donning the same old bra as years before, you know the one that could do it's own walk-down at the end of the season? Yes, that's the one!
It's here that I got to meet the other actors in principle roles, all of which are lovely and looking forward to spending the festive season together.
Rehearsals began in November and this year I've mainly been based behind a table and jumped up into scenes when needed to play my part. It's sometimes a tricky balance to get right, juggling your directing role with your performer role but I find it actually brings you closer to your fellow actors, earning respect and friends along the way. It's also a huge amount of fun creating something and adding detail to hilarious scenes.
We have a script that we follow, and some of it we follow quite strictly as one actor's line may be setting up a punch line for another actor; these things are important to get right.
A lot of the time in the script for the Dame or Comic it will say "business", this is where the actor is allowed to bring their own material to the piece whether it's a stand-up routine or a famous pantomime routine such as The Mop Drill Scene. 
We rehearse from 10:00am until about 7:30pm most days. The later hours are mainly slotting the juvenile dancers into their positions who have normally been working on the choreography for a few weeks already. However, in Peter Pan, you also have Michael, John and sometimes Tinkerbell to add to the mix as juvenile actors usually play these parts.
When everything has been meticulously rehearsed, as is always the way in comedy, and in a relatively short time period, we open to the public.
I usually get to the theatre about ninety minutes before the performance begins. This allows me to slowly become focused on the show. As assistant director (AD), I normally visit the stage manager and we have a quick meeting about the shows that day and what information we need for the company to be given after the warm up.
This may be that an actor or dancer is off that day so we have to do a small re-blocking session or simply that there is a social event after today's performances. Following our meeting it's a quick segue into makeup and costume.
I tend to apply my makeup slowly whilst listening to the Christmas house music over the tannoy, this really gets me in the spirit. I wear simple but effective make-up; a base and powder, red lips and cheeks and colourful eyes.
I admire the Dames who go the whole nine yards and apply false eye-lashes and prosthetics but my concentration span doesn't last for the time it takes to do this properly and I think it's important that the audience is clear that I am a man in a dress and not a drag artist. These are two very different things.
Arthur Askey once said "A Dame should be a butch man, in other words, under his skirt you should see his trousers. Know he's a man." I find I get a lot more laughs playing a man who is playing a woman, rather than playing a woman in the first place.
Playing a Dame is fantastic but you can't do it on your own. Without the wardrobe department, backstage crew and dressers it would be impossible. All of my frocks are selected months before rehearsals begin and often it's possible to have custom made outfits to fit individual comic needs.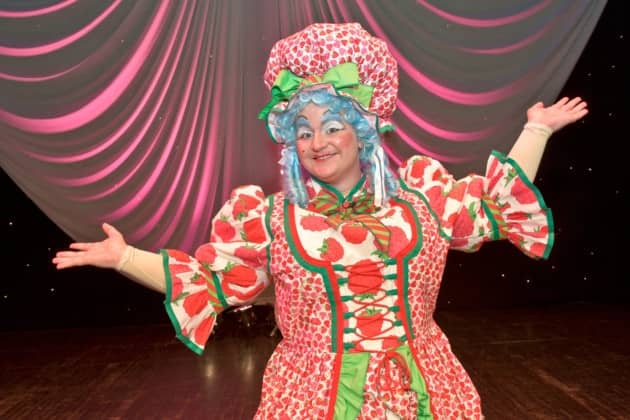 I once saw a pantomime where the Dame entered dressed as the Sydney Opera House for a small one-line joke; we go the extra mile to get that laugh! This year I have one or two costumes that give a nod to the re-launch of the Star Wars movies. My quick changes are rehearsed over and over.
Sometimes I have thirty seconds to get from one frock to the next; there are a few stage secrets that I'm willing to share if you buy me a big bar of chocolate!
Pantomime is fun but exhausting! I've done schedules where most days have been three shows a day; as soon as the curtain comes down after show number one, the second audience is arriving at the door. Keeping in tip top health is very important as a simple cold on top of the schedule and high-energy performances can really knock you out.
As the Dame I don't have an understudy and last year I was subject to a chest infection; the world's best company manager (Rob Lloyd) took me to the out of hours Doctor who had seen the show just a few days before with his children. He then quoted my catchphrases back to me. I don't know what gave me away, maybe it was that I was still wearing half of the make-up!
You'll never perform the same show twice in Pantomime. Audience members are encouraged to shout out and I have to be ready with quick ad libs in order to react and interact. I always enjoy going down into the audience and flirting with a poor, unsuspecting man on the front row; it really wins over the audience gets them on your side and they feel so much more part of something special when you burst through the fourth wall.
You can really tell if you're audience is up for it by the noise they make during the overture. You can feel their energy and generosity when it comes to joining in but ultimately we always have a great time.
We've just had the beginners call. That's my cue to put on my wig and be on standby for my entrance. I always get nervous for the first time I walk on stage in a performance but excitement is about to take over. The overture has started and I've just got time for a final stroke of lipstick.
We started at exactly 7:30 this evening; apparently a lorry has spilt Vicks VapoRub all down the M4. There's been no congestion for twenty-four hours!"
See Hywel at The Playhouse Theatre in Weston-Super-Mare from December 10 - January 1.