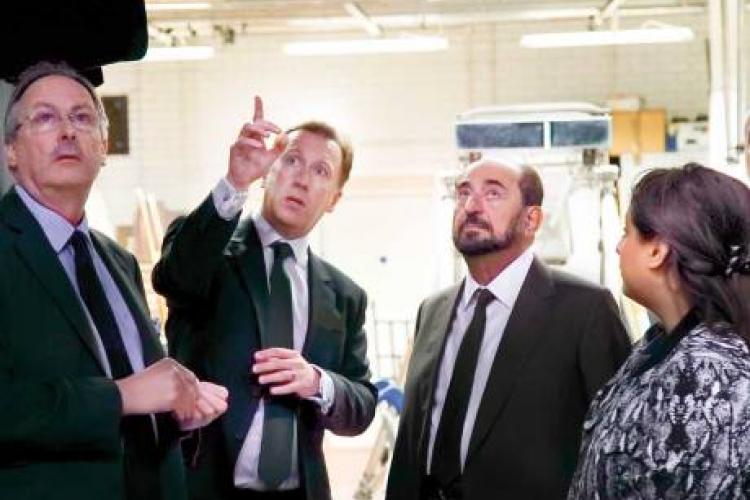 His Highness Dr Sheikh Sultan Bin Mohammed Al Qasimi, Supreme Council Member and Ruler of Sharjah, has visited GSA at the University of Surrey, where he met with Sean McNamara, Head of GSA, Max Lu, Vice-Chancellor of the University of Surrey, University Provost and Executive Vice-President, Professor Michael Kearney, Ashley Herman, University Council/GSA Board and other key members of the faculty. https://youtu.be/tge8NMRPrM8
They discussed opportunities to develop programmes and joint initiatives to enhance the academic and artistic visions of the Sharjah Art Academy. His Highness announced the establishment of the academy last month at the end of Sharjah Theatrical Days 2017 with a view to providing education and training for lovers of theatre and visual arts to drive the creative movement in the Arab world.
In recognising the English university's achievements and ambitions, His Highness Dr Sheikh Sultan said that knowledge and creativity in Sharjah are also the key to nurturing new generations and strengthening their artistic and academic potential. He added that the emirate is opening up new channels of communication with research institutions worldwide to exchange experiences and expertise to support young talent.

"Literature and art are essential for cross-cultural dialogue, which must be nurtured in younger generations both academically and professionally. This ensures that different populations from different societies can share common interests, helping them to co-exist in a more stable and secure environment," His Highness said.

The Sharjah Ruler was accompanied by Sheikha Hoor Al Qasimi, President and Director of the Sharjah Art Foundation, Dr Amr Abdul Hamid, Director of Sharjah Research Academy and Ali Shahin Al Suwaidi, Chairman of the Department of Public Works in Sharjah.
Sean McNamara is currently in Sharjah for further talks with His Highness Dr Sheikh Sultan Bin Mohammed Al Qasimi and his colleagues.  https://youtu.be/etjq4XzU-dI