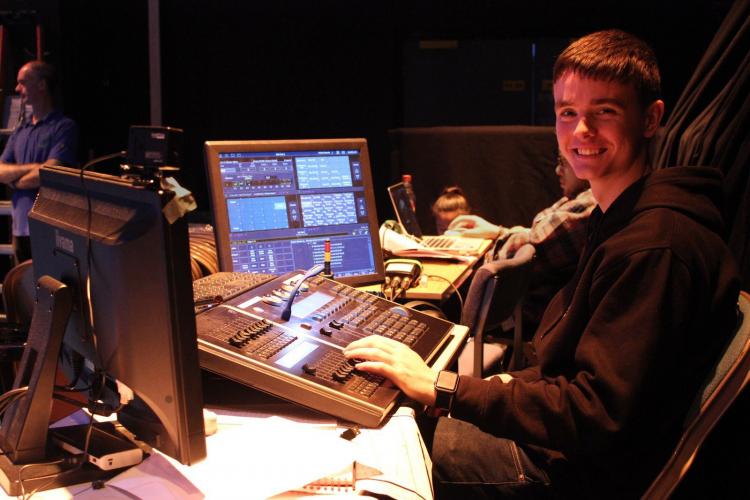 Ben Linwood, GSA 2nd year Production student, lighting pathway has won a prestigious student bursary. Ben told us all about it:
After a competitive application process, during which I had to attend an interview at the London Palladium. I was delighted to be selected as one of the winners of the SLX Student Bursary. SLX are one of the leading entertainment technology hire and supply companies in the UK.
SLX took the 5 winners to their head office in Bristol for two days of workshops, as well as a chance to meet each other and learn more about the company and what they have to offer. As a result of winning the bursary I have received £3000 of hire from their entire stock, which will soon be benefiting the BA Musical Theatre second year productions of Sweet Charity and Pal Joey: the show budgets wouldn't have covered the cost of professional lighting equipment I am bringing in as Lighting Designer.
They also offer their contacts and connections: later this week I am working at the London Palladium for example on a get out of their generic rig before the next show, The King and I, comes in.
They also fully encourage the five of us to use them as a resource for technical information and support if we need any. This however is only the start and I am looking forward to seeing what happens with them in the future!
Finally Ben says "I am thrilled to have received this bursary and to start a relationship with such a well-respected company. The £3000 of hire will really benefit me and others by allowing more advanced equipment to be used on some productions. However I am more looking forward to the experiences that they are offering by giving me more industry contacts and taking me on their events. This is support is invaluable and a resource that I hope to build upon throughout my time at GSA as well as once I have graduated."