Laurie Bailey
Specialist area: Lighting and Video
Throughout her University and freelance work Laurie has gained credits in design, programming and crew in both lighting and video departments. She is always keen to expand her knowledge across all aspects of theatre and live performance.
Laurie's most recent role at Guildford School of Acting was programmer on Little Women and Jane Eyre which allowed her to successfully apply her learning to two musicals in a repertory fashion. This experience furthered her accomplishments as an EOS programmer. Laurie has collaborated on several theatre and live music events this year, through which she cultivated her innovations in lighting design and video technologies.
Her most notable experience was Operation Ouch Live on Stage! overseeing video operations, boosting her interest in video design and technologies. Being a part of a new show in the West End gave Laurie the chance to reinforce her confidence in her practices and thrive in a professional venue. Furthermore, Laurie has a strong passion for live music events and is keen to pursue a career in lighting and video technologies in this field.
Ellie Lucy Brereton
Specialist Area: Design Realisation
Ellie is down to earth and of a friendly disposition, which aids her when collaborating with other professionals, one of the aspects of theatre work she enjoys the most.
Her passion for learning has equipped Ellie with skills that enable her to be a hands-on designer who enjoys every element of realising a design, from model box to stage. As well as developing her skills as a designer, Ellie has expanded her carpentry, prop making and scenic art knowledge throughout both her time at Guildford School of Acting and an external work placement with The Royal Exchange Theatre in Manchester.
She has also spent a lot of time with Guildford School of Acting's wardrobe department, as both an assistant and designer, where she realised a love of costume. Always looking to improve as a professional, Ellie would like to learn from fellow, more experienced designers by working as an assistant; she enjoys the collaborative sense of working to bring a designer's vision to life.
She also sees herself working in children's theatre, or in a residential wardrobe department - having experience as a wardrobe assistant and dresser, she remains unperturbed by the prospect of laundry
Email: ellielucybrereton@gmail.com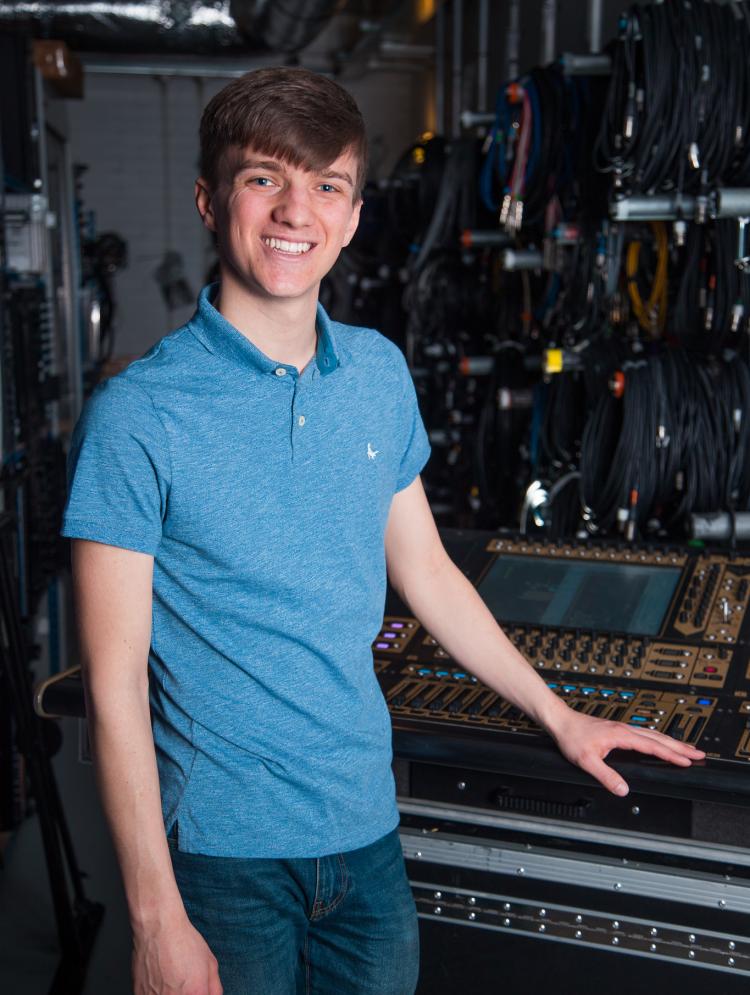 Ollie Burridge
Specialist Area: Sound
During his time at Guildford School of Acting Ollie has completed a wide variety of roles. Initially a Sound No. 3, he has enjoyed rising through the ranks to Head of Department positions such as Sound No. 1 on GSA's productions of Hair, The Fix and most recently Shrek. In addition to this Ollie has become a competent Production Sound Engineer, highlighted by his role on the Guildford School of Acting's production of 9to5 featuring the use of TiMax tracking technology.  Primarily focused on Musical Theatre, he has proved himself  to be a valuable asset to any team, with a good working knowledge of a wide variety of equipment and excellent communication skills; all transferable to other forms of theatre and events.
Alongside training, Ollie has been fortunate to gain employment as a dep on several West-End shows including 42nd Street, Bat Out of Hell & Heathers - enhancing his professional practice and skillset. Furthermore, Ollie has gained experience with Gareth Owen Sound, Stage Sound Services and Autograph Sound Ltd as a warehouse and on-site assistant.
As an individual wishing to continue to expand upon his existing knowledge, Ollie is looking to secure positions within West End Sound departments should the opportunities become available. He aims to further his skills and progress through the ranks and aspires to mix large-scale musical theatre while maintaining an interest in Production Sound and developing technologies.
Email: Ollie.Burridge@outlook.com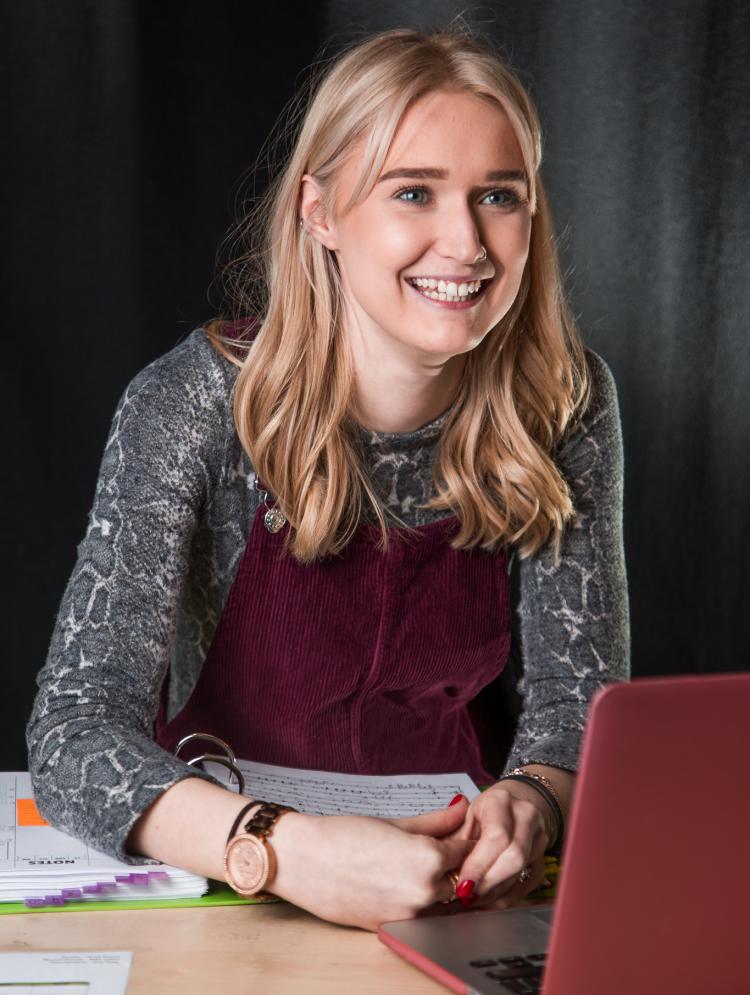 Orla Daly
Specialist Area: Stage Management 
Throughout Orla's time at Guildford School of Acting she has been Assistant, Deputy and Stage Manager on a number of productions. She is a motivated and enthusiastic individual with a particular interest in musical theatre.
Orla has been DSM on a variety of musicals such as: London Road, Sweet Charity, Whistle Down the Wind and Shrek the Musical. These particularly demonstrated her strong score reading ability, focus and ability to stay calm and positive in intense situations. She is able to support and communicate well to cast, creative and production teams throughout the process, helped by her attention to detail and thorough paperwork. Orla works with a professional demeanour aiming to always be one step ahead individually and as a team.
Orla currently works as an ASM Dep on West End productions of Les Misérables and Mamma Mia strengthening her understanding of stage management within the professional industry. She aspires to continue a career in stage management with a particular interest in the position of an ASM Book Cover on a large-scale musical theatre production, specifically West End.
Email: orla-daly@outlook.com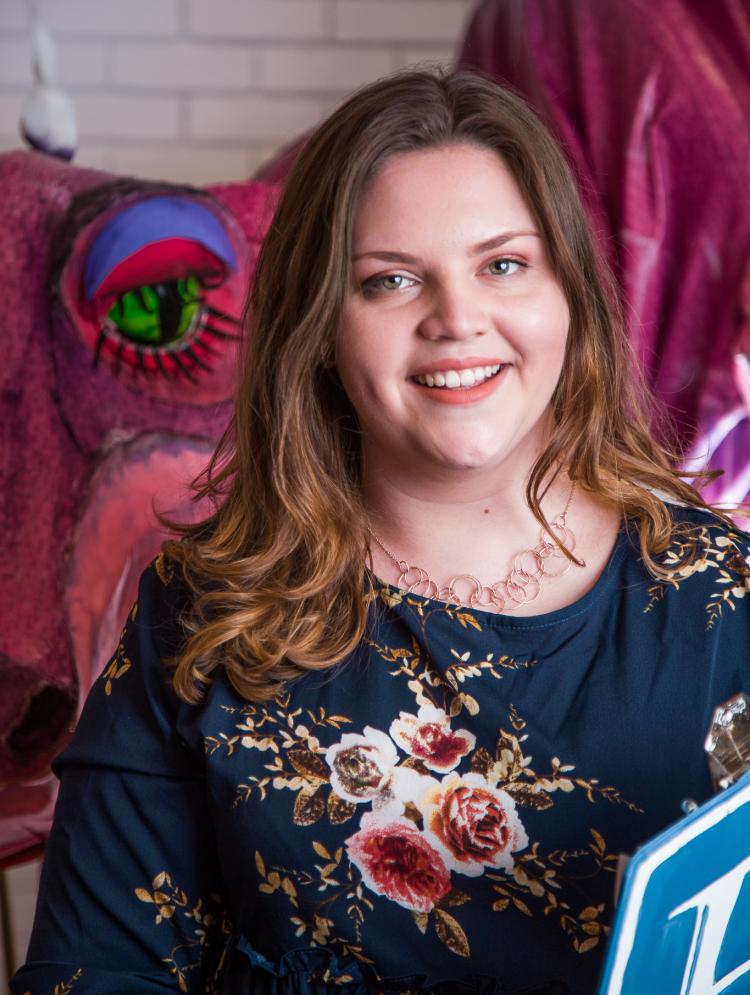 Keira Dulake
Specialist Area: Stage Management
Over the past three years, Keira has had the opportunity to apply her conscientious and driven work-ethic to many productions both within her University and freelance career. Some of her highlights whilst training include DSM for Dear World and Little Women, and Stage Manager for Shrek the Musical.
Keira has a keen interest in all stage management positions and enjoys the diversity that the department offers. Her score reading skills and background in vocal performance support her strong capabilities as a show caller. She also is well practised in prop sourcing and team management, making her a valuable addition to any team.
Her diligence and flexibility make her an approachable member of the team and she always strives to ensure a relaxed, excellently organised and safe working environment in the rehearsal room and backstage.
With an interest in drama, musical theatre and opera, Keira is eager to expand her experience as a freelancer in a range of stage management roles. She hopes to work with producing companies creating new and exciting theatre and looks forward to her future career in the industry.
Email: keiradulake@outlook.com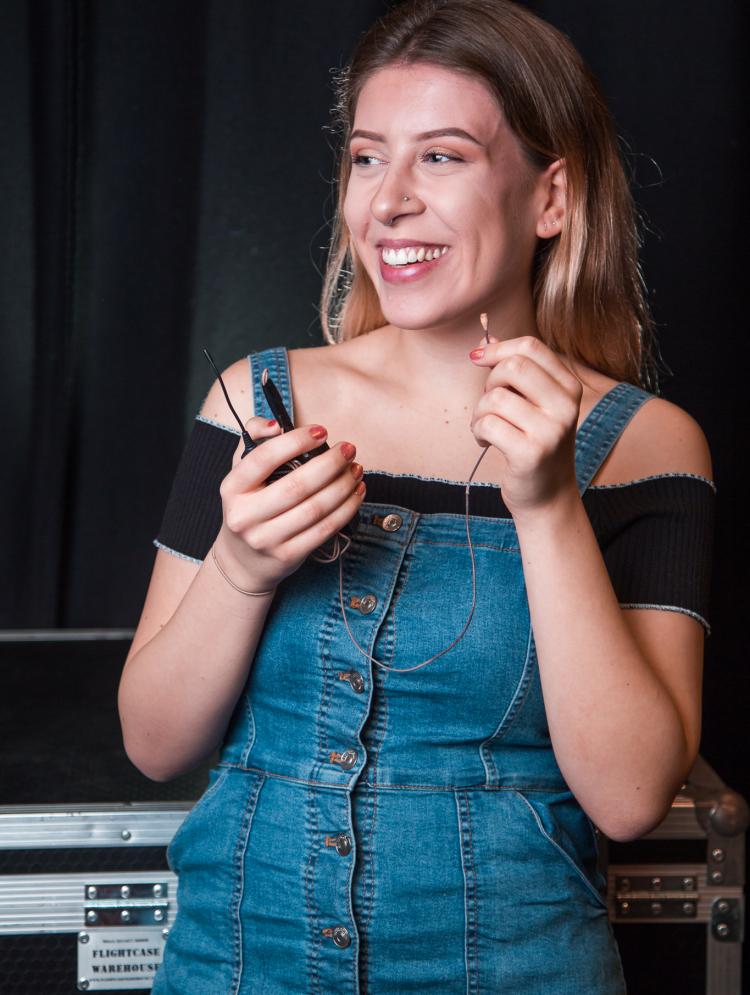 Daisy Octavia Edmonds
Specialist Area: Sound
Daisy prides herself on being a calm and composed practitioner. Being confident and personable has been a vital asset for her when taking on an assortment of show roles from Sound Number 1 to Sound Number 3. Having the chance to work closely with performers and producers alike on a vast range of shows has provided her with invaluable interpersonal skills.
Daisy is fortunate to have worked with a variety of industry professionals throughout her career. Depping has been a strong source upon which to build her knowledge and, with almost 2 years under her belt at The Book of Mormon, she feels increasingly confident in her Sound Number 3 capabilities. Stepping in as a Sound Number 2 dep at Heathers: The Musical allowed her to show her flexibility when integrating into a tight-knit company. This work encouraged a strong improvement in her radio monitoring skills, something she has been continuing to develop in her training.

Looking forward Daisy is excited at the prospect of joining a sound team and learning more from other practitioners. Primarily she is focusing on gaining more experience in Sound Number 2/3 roles but as she progresses in her career, she hopes that there will be opportunities to demonstrate her mixing ability and to develop these skills further.
Email: daisy.octavia@outlook.com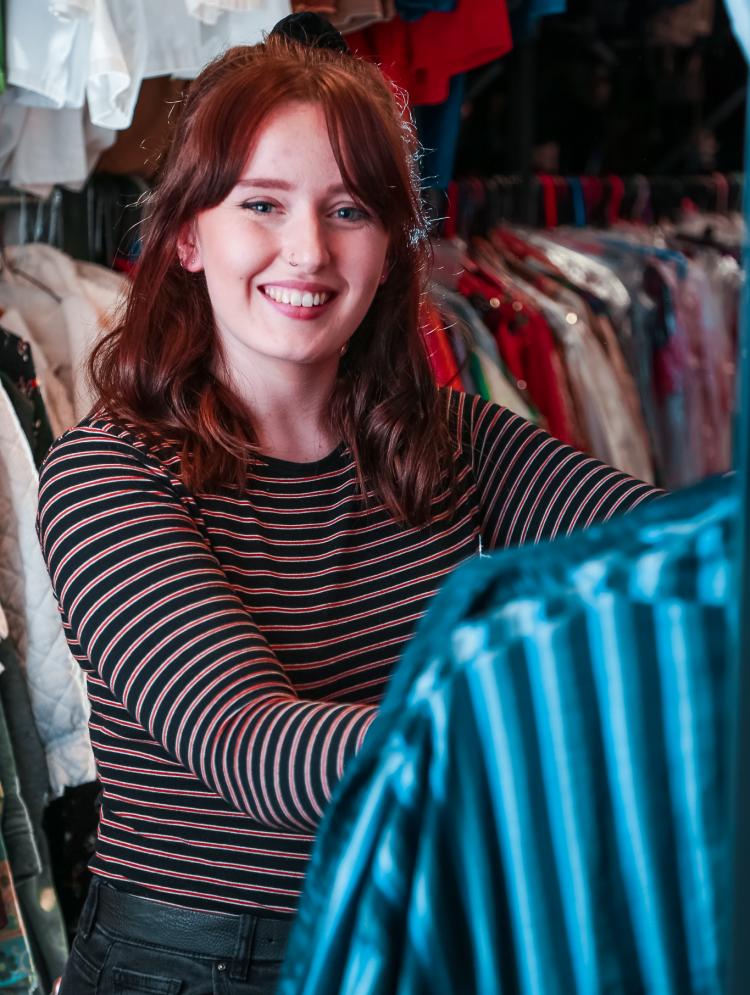 Beth Godby
Specialist Area: Design Realisation
During her training at Guildford School of Acting, Beth has channelled her creative and artistic flair towards costume and set design in theatre. During this time she has constantly worked to develop her style and approach whilst also gaining experience as a wardrobe assistant, maker and supervisor.
Beth prides herself on her passion for creating and determination to constantly improve and she has worked to develop skills and knowledge in carpentry and scenic art over the three years.
Beth has gained a plethora of show experience during her time at Guildford School of Acting. Her love of costumes began when she took on the role as Wardrobe Assistant and Dresser on Three Sisters and Earthquakes in London. This advanced her skills in alterations and wardrobe management, now a main career focus for Beth as she moves forward from her training. She also worked as Set and Costume Designer on the black box show Crime and Punishment, in which she worked to push the limits of what was achievable in a studio space.
With graduation approaching, Beth has spent her final year solidifying her training as she aims to spend her future collaborating and constantly evolving within a wardrobe department.
Email: bethgodbydesign@hotmail.com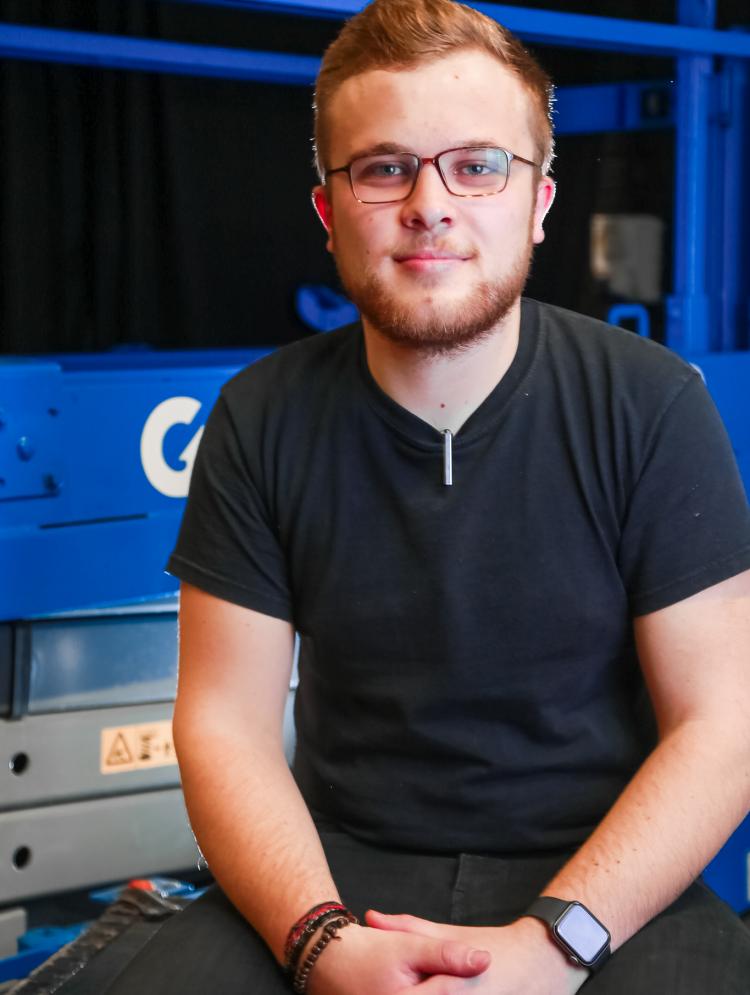 Oli Hancock
Specialist Area: Lighting and Video
Oli is a competent Lighting & Video technician, a job which has taken him around the world as a system engineer in both the Video and Lighting industry. With a keen eye for design and a practical mind, he strives to deliver the highest quality of production. He has also completed roles as Lighting and Video programmer, specifically with Eos, Catalyst and d3 Disguise.
His industry highlight to date was going to Australia with North by Northwest the play as Production Video.  This experience allowed Oli to exercise his skills as a competent Head of Department, working closely with the creative team to realise a Hollywood classic on stage. Oli aims to continue with his freelance career as a Lighting and Video technician, with a view to becoming a designer.
Email: oli@olihancock.com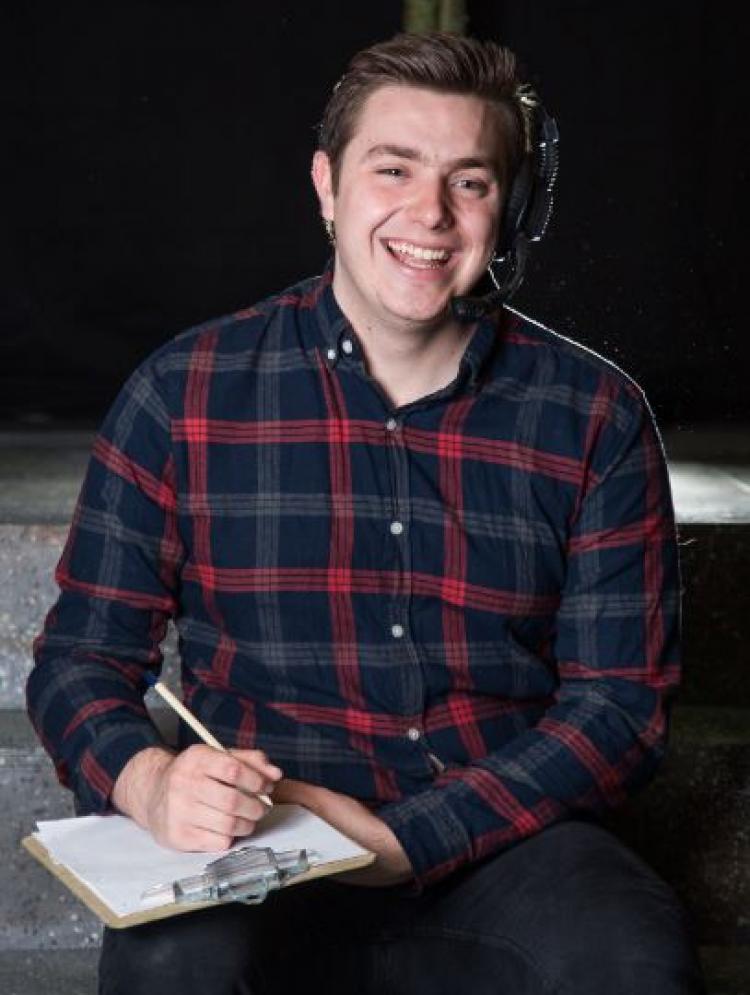 Jonathon Harwood
Specialist Area: Stage Management
Jonathon is an enthusiastic and pro-active Stage Manager with experience within in a range of genres musicals, plays and actor-musician. Throughout his time at Guildford School of Acting he has established skills in each key area of Stage Management, allowing him to develop a well-rounded understanding of the production process. Jonathon's ability to plan, organise and problem-solve enables him to work effectively under high pressure.
While working within the stage management department, he has gained experience in sourcing, adapting and making props, which aids the high production values for which he strives. Jonathon has taken a keen interest in working on large-scale productions with many complex challenges. These have included weaponry, magic, fire and pyrotechnics. Approaching every show with an open mind has allowed him to adapt and deal with new situations that he has not faced before.
Initially, Jonathon is seeking work as an ASM where he can continue to develop his experience and build on his skills. His ultimate goal is to work as a Company/Stage Manager in large producing theatres. Jonathon brings a range of skills combined with drive and energy to complete tasks, making him an asset to every team.
Email: harwood.jon@gmail.com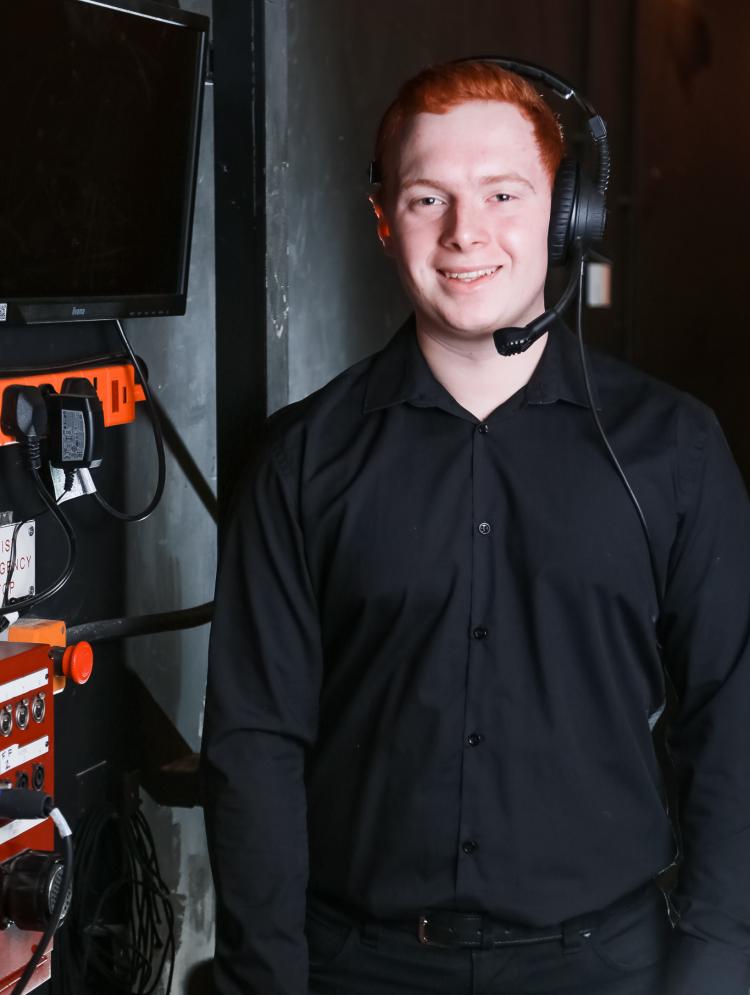 Adam Hooper
Specialist Area: Stage Manager
Throughout his time at Guildford School of Acting, Adam has had the opportunity to undertake many roles, ranging from ASM to Stage Manager, enabling him to become a versatile member of the stage management team and ready to participate on any job required.
A dedicated, organised and personable worker, Adam thoroughly enjoys operating within a team environment; ensuring that tasks have been completed to a high standard whilst also maintaining morale between cast, crew and creatives. This unparalleled work ethic is most evident in his ability to keep communication channels open and ensuring that the production runs smoothly.
Post-graduation, Adam is keen to work on productions and projects where he can develop from working as ASM to eventually Stage Manager and Production Manager. This thirst for learning would make him a great addition to any team and he will often take on jobs to boost his skill set.
Email: adam.hooper2@virginmedia.com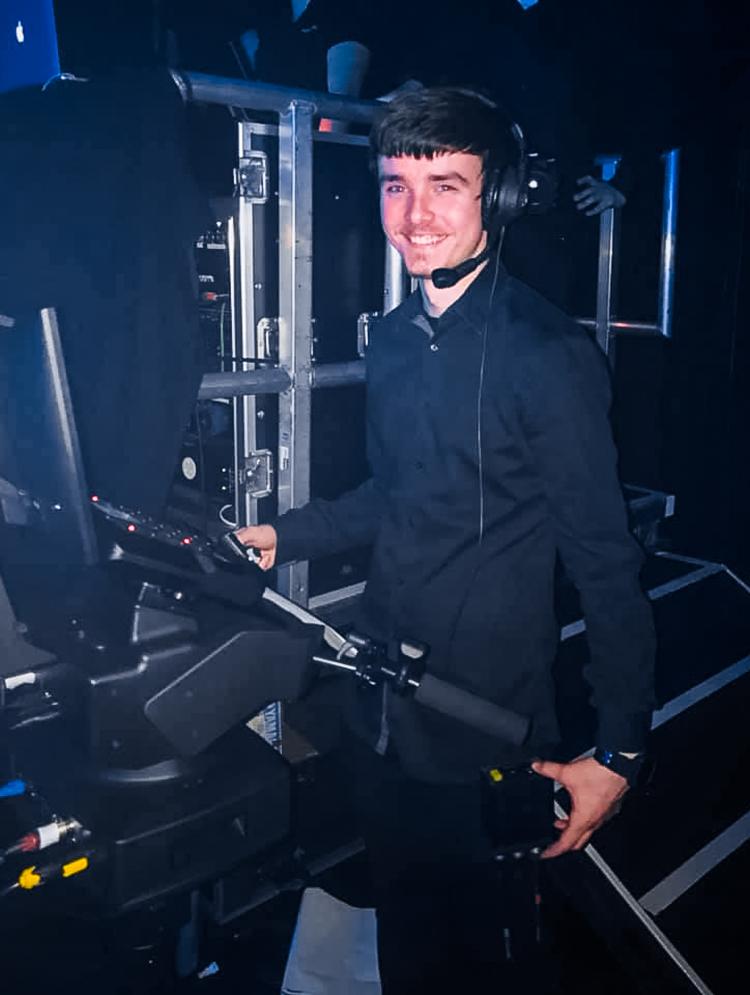 Ben Linwood
Specialist Area: Sound Engineering
TPI Awards 2019, New Year's Eve London 2018, Ghost UK Tour, these are all events and shows that Ben has been involved with in the past few months. This alone should tell you a lot about the type of person Ben is and what he is like to work with. Ben is able to help in most prep and performance situations, with a strong knowledge and skillset in lighting, but with a working knowledge in sound and video too, he can always be of assistance.
Having spent his industry placement with Light Fantastic Production Services, Ben has widened his knowledge base even further, and this has given him a new range of experiences focusing on the events side as opposed to theatre. This also includes experiences such as warehouse prep and performing PAT tests, as well as moving light maintenance. This is a route in which he wants to pursue in the future. Ben has enjoyed his time at Guildford School of Acting and is ready to move on and expand his ever-growing CV.
Email: ben@linwoodproductions.co.uk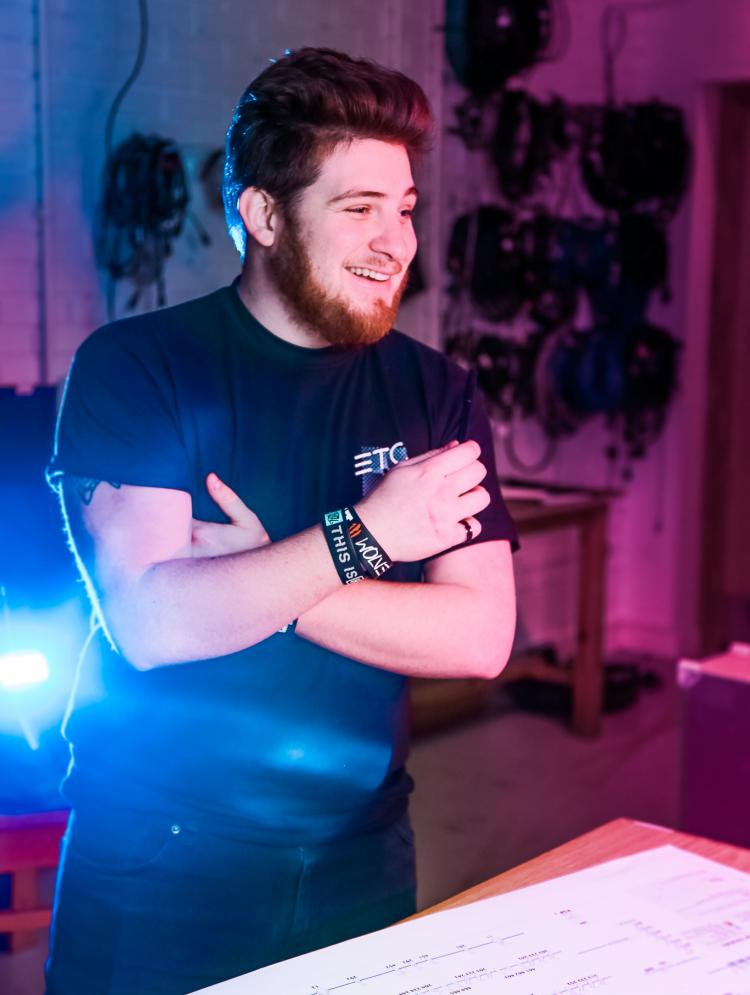 Zachariah North
Specialist Area: Lighting
Zachariah has learnt a lot throughout his time at Guildford School of Acting including: Stage LX, designing and working within a team. Before and throughout his time at GSA, he has worked on various shows in a professional environment within the West End in different roles. He has therefore learnt how to work as part as a team, gained vital technical and critical thinking skills and knows how to conduct himself in a professional environment.
Zachariah wishes to pursue a career within lighting design and has learnt the necessary skills during his time at GSA. He is passionate about theatre and the music industry ensuring he is a hard worker and completes every task to the highest of his ability.  He would like to work in roles that challenge him both as a person and as a professional; work that is not just for entertainment but that pushes boundaries and changes the face of lighting within theatre and music.
During his second year he very much excelled in a role he took on a role as Lighting Designer for a local band. This pushed him to work within another industry and take different artistic licenses to work with the music instead of on cues for a play/musical. He kept in contact with these artists and went on to work with them in the future due to their appreciation of his work.
Email: Zachariah99@hotmail.co.uk


Chris Pearson
Specialist Area: Lighting
Chris has been involved in theatre lighting from a very early age as well as being involved in many other aspects of theatre including; Stage Crew, Sound and Stage Management. Chris has worked on many amateur, semi-professional and professional shows including long term and short term shows in the West End. These include Company at the Gielgud Theatre and Dreamgirls at the Savoy Theatre. Chris is professionally trained on EOS and MA software as well as being trained on VectorWorks and Lightwright.
Chris's most recent role at Guildford School of Acting was as programmer for the lighting designer Rob Halliday on Shrek the Musical. Chris found this to be a fantastic opportunity working a high-level show within the school as well as working with one of the industry's top designers and programmers. Upon graduation Chris would like to take a touring route within the industry, hopefully working as a touring LX around the country.
Email: Chrispearsondesign@gmail.com 


Hayley Rasdall
Specialist Area: Stage Management
During her training at Guildford School of Acting, Hayley has worked on a number of productions which have allowed her to develop her skills as a Stage Manager, whilst enabling her to expand her knowledge of the theatre industry as a whole. These roles have varied from ASM on Cats at the Yvonne Arnaud Theatre to DSM on The Suicide.
Hayley has gained experience in prop making, sourcing and show calling as well as running a show backstage. She has taken a particular interest in the work of ASM, a role she wishes to pursue upon graduating. Her artistic background has led her to demonstrate a keen appreciation for prop making, thus combining her creativity with her love of theatre.
Hayley prides herself on the ability to delegate effectively and take control of any given situation. Her conscientious work ethic allows her to complete tasks to the best of her ability, whilst maintaining an energetic and enthusiastic outlook. Hayley's organisation skills have also allowed her to complete relevant paperwork efficiently, inevitably contributing to the smooth running of a show.
Email: Hayleyrasdall@gmail.com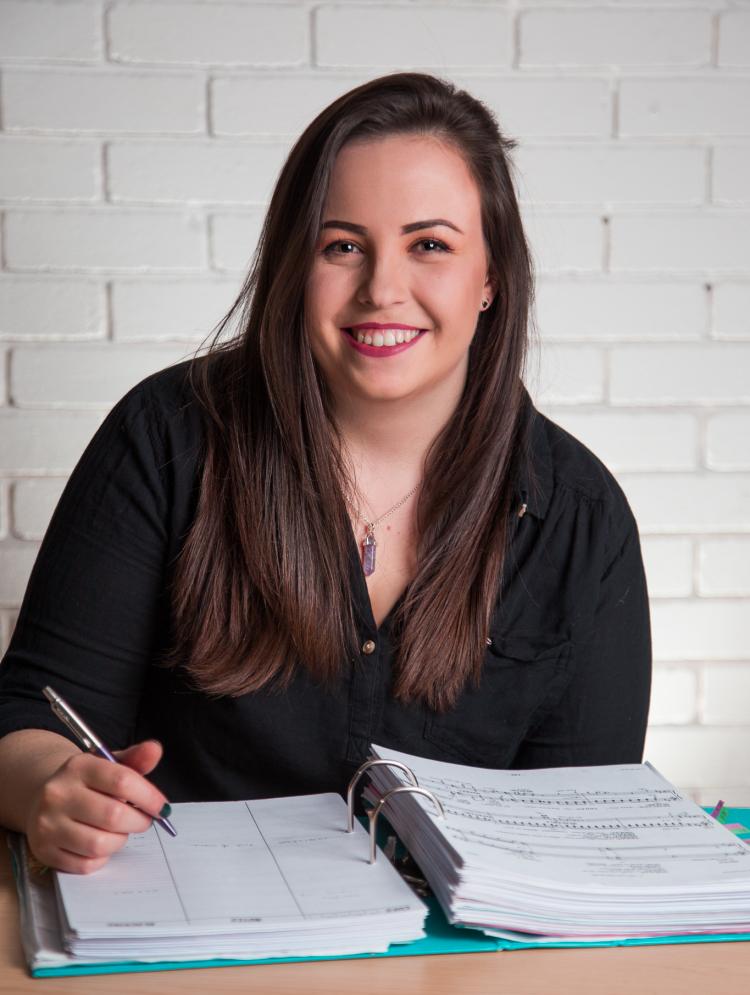 Leea Smith
Specialist Area: Stage Management
Throughout her training and industry experience, Leea has had the opportunity to work in a variety of stage management and production roles on a wide range of shows.
Experienced in working on plays, musicals and opera, Leea is a very versatile Stage Manager who can adapt to any situation and working environment. As a Casual Technician at four different venues, Leea enjoys working in different locations with all types of people and is constantly looking to expand her knowledge in order to develop as a practitioner. She is proactive in her approach to work and looks ahead endeavouring to resolve problems before they arise.
Major learning experiences include working as Rehearsal ASM on the Avenue Q, UK Tour where Leea developed her prop making and sourcing skills, in addition to becoming accustomed with puppetry, and DSM for the British Youth Opera, where she showed an aptitude for score reading, show calling and working on large scale productions.
Leea is looking forward to graduating and following a career in stage management. Leea would like to use her skills to work in the role of ASM Book Cover on a large-scale musical or opera, before progressing to become a DSM.
Email: leeasmith@outlook.com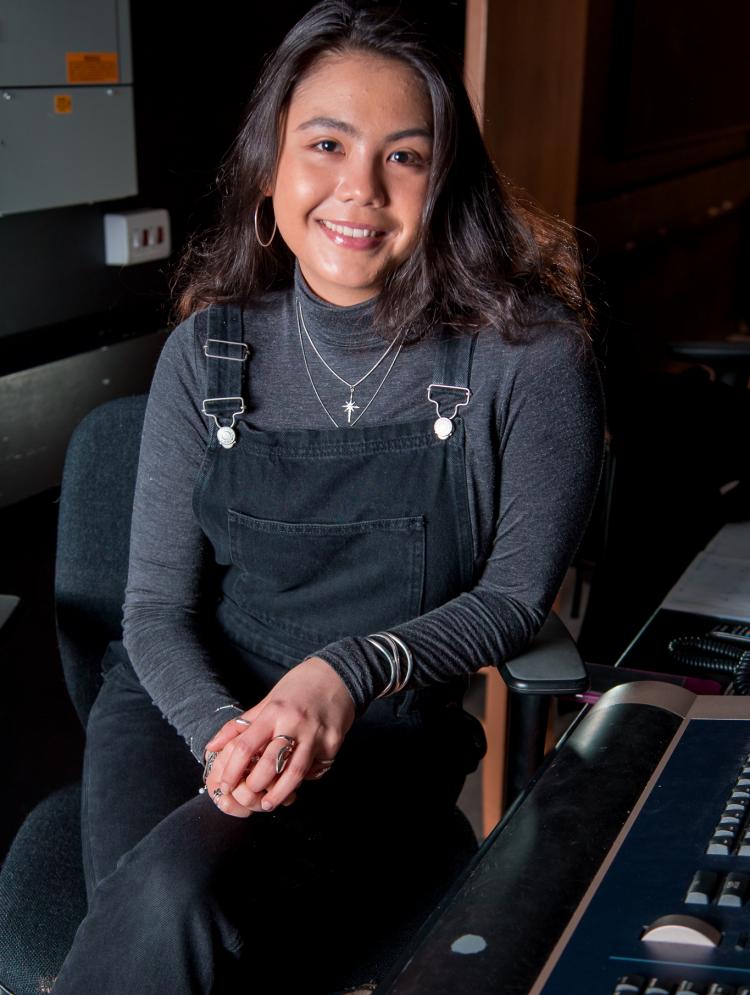 Elysia So
Specialist Area: Lighting
Elysia is a diligent and conscientious worker who accredits her achievements to having a strong work ethic and perseverance in any given situation. Although she started her training at Guildford School of Acting with no prior experience in lighting, her growth in this area has since been exponential.
Having taken on a variety of show roles from Programmer on the Musical Theatre Showcase at The Shaftesbury Theatre to Production Electrician on Anne Boleyn in PATS Theatre, has enabled Elysia to expand her capabilities into numerous lighting disciplines.
When not at Guildford School of Acting you will find Elysia Tech Swing-ing around the West End.
Email: elysiaadrianneso@gmail.com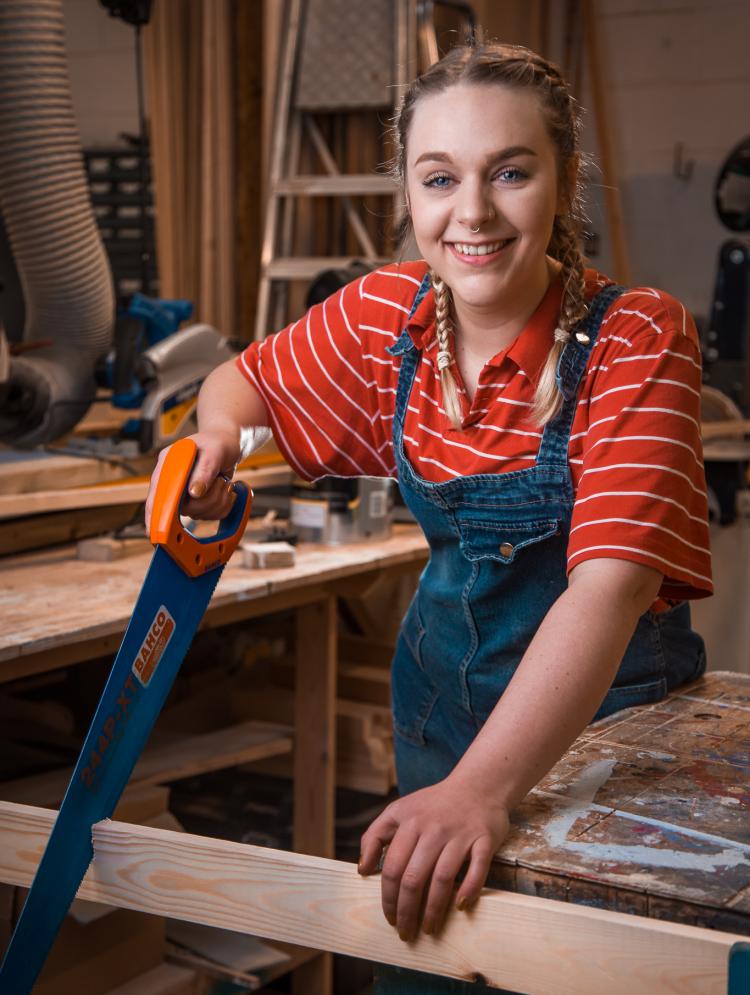 Tia Stratford-Smith
Specialist Area: Design Realisation
From building and painting scenery to designing and making props, Tia continually aims to expand her knowledge of the scenic arts. Whilst training at Guildford School of Acting, she embraced the challenge of designing the set and costumes for Widows, as well as constructing and painting the scenery to a professional standard. She has built and painted over thirty productions and successfully took on a Senior Construction Manager role for Grimm Tales. Through these roles Tia has developed her skills, knowledge and understanding of scenic construction methodologies.
Tia enjoys exercising her creativity and expanding her knowledge by exploring exciting new projects such as automata toys, prosthetics and sculptures. She particularly enjoys making cartoonist figures out of recycled materials and has previously made a series of clay monsters in tin cans.
To progress her skills in scenic art, Tia has completed work placements at Richard Nutbourne Scenic Studios and Clockwork Scenery. During these experiences, she sculpted a Greek frieze and assisted with a series of productions, including Nicki Minaj's 2019 tour.
Tia is now looking to explore exhibition, events and festival work. She wishes to grow as a practitioner by developing her skills in metalwork and CAD software and aspires to become an in-house Head of Department in her future career.
Email: tia.stratford-smith@live.co.uk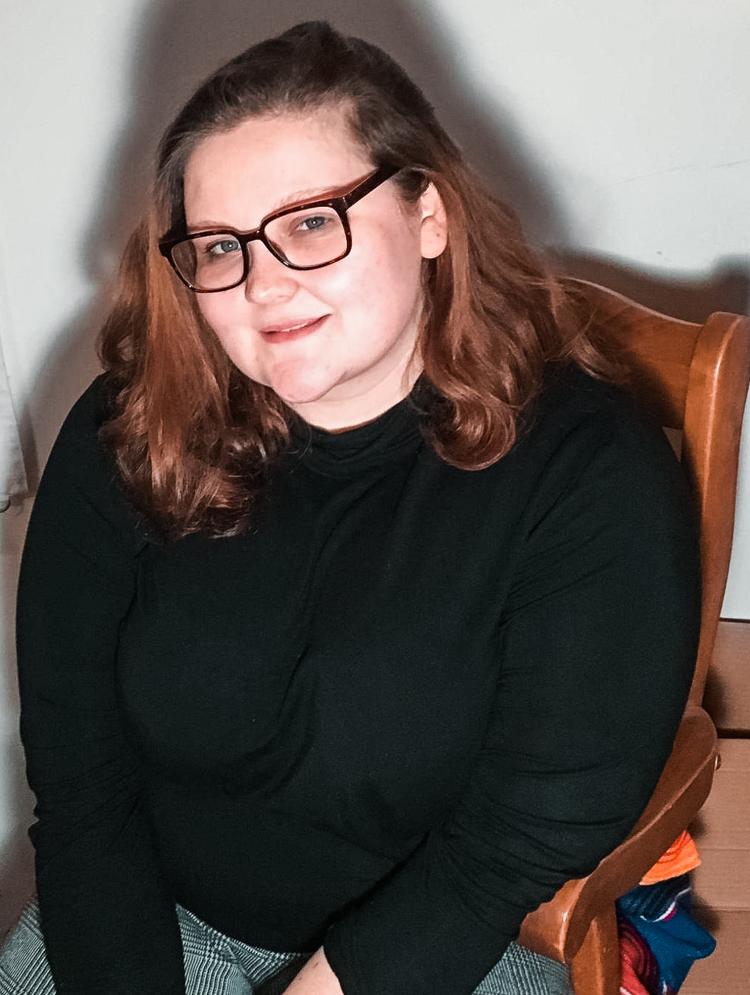 Eleanor Wilson
Specialist Area: Stage Management 
Eleanor first became interested in theatre after watching shows at the Prague Fringe, where she grew up and first worked backstage with Blood, Love and Rhetoricwho are an ensemble theatre company in the Czech Republic. Whilst there she worked on a wide range of plays from Ibsen's A Doll's House to Brechtian pieces such as The Resistible Ride of Arturo Ui.
Whilst training at Guildford School of Acting Eleanor has loved working in a range of stage management and wardrobe roles. These have challenged her to expand and learn new skills and evaluate what she would like to pursue after she leaves University.
Most recently Eleanor has completed an internship at the Production Exchange, a talent agency who represent new and emerging creatives and performers. After graduation, Eleanor would love to work in the world of talent and creative management and representation.
Email: eleanorwilson415@yahoo.com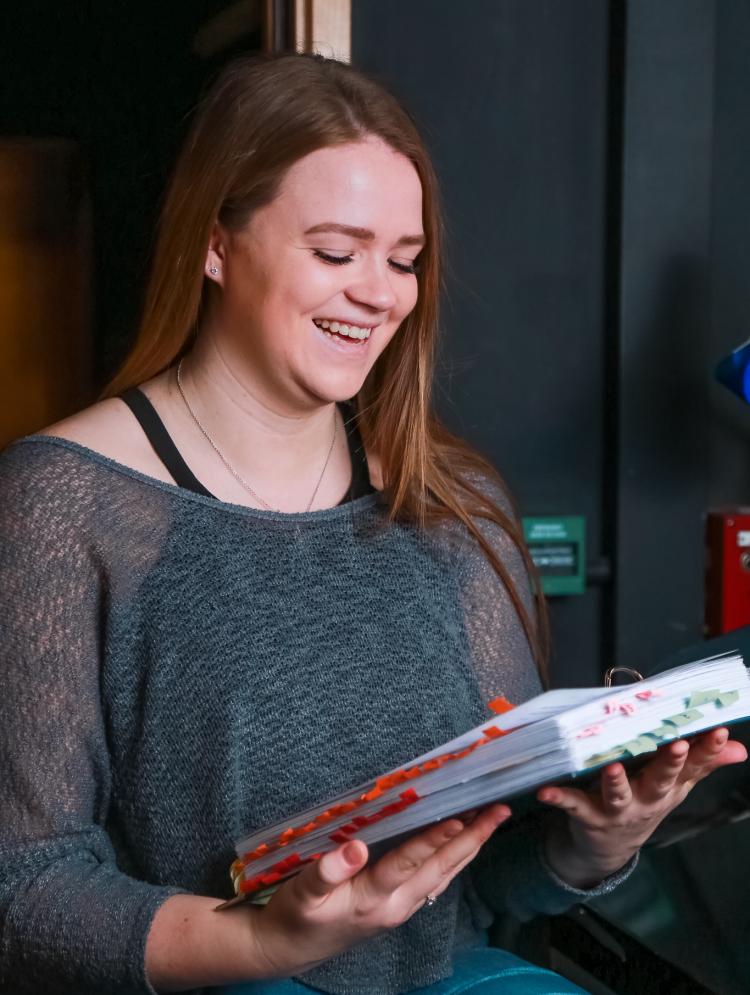 Gemma Brock
Specialist Area: Stage and Production Management
Passion in what you do has always been important to Gemma. From working with a team to calling a show, Gemma thrives off of every aspect of Stage Management. Gemma has a profound ability to create strong relationships within a team and motivate herself, as well as others. This quality makes her who she is as an individual and Stage Manager.
During her training she has gained a wide skill set which has equipped her to take on any role within Stage Management and her BA in Musical Theatre has nurtured in her a deep appreciation for the arts. Gemma prides herself in being a dedicated, hard worker who always strives to complete tasks to the best possible standard.
Going forward, Gemma has a keen interest to pursue a future career as a DSM. However, initially, she aims to bring her enthusiasm and energy to facilitate all types of musical theatre productions, in the role of an ASM and Book Cover.
Email: gemma.brock@ntlworld.com