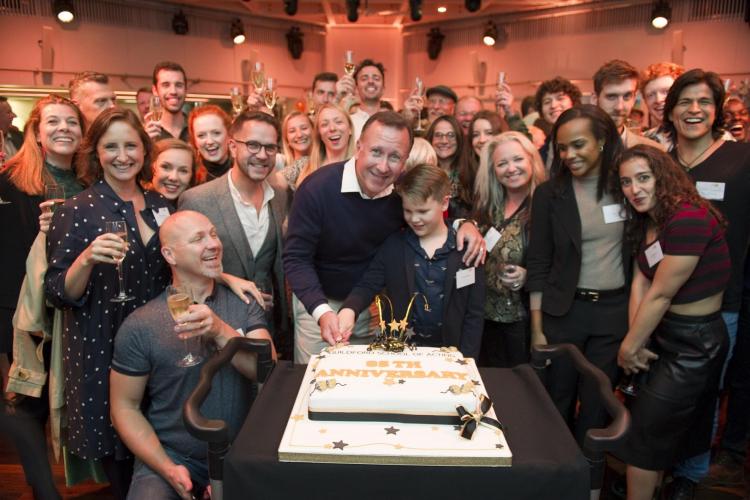 GSA's 85th Anniversary Celebrations at The Deck at the National Theatre
On Tuesday 24th September 2019 over 200 GSA alumni, staff, students and friends gathered to celebrate GSA's 85th Anniversary at The Deck at the National Theatre. We were honoured to welcome guest speaker, Olivier Award-winner Kobna Holdbrook-Smith who spoke passionately of his time at GSA and what it meant for him, as well as the importance of excellence and collaboration. Following the theme of giving back, GSA's new Patrons scheme was launched, offering alumni and friends the opportunity to be part of the future of GSA by supporting our programmes and performances. We were also delighted to have an opportunity to honour two of our longest serving colleagues Ian Ricketts and Peter Roberts. Peter and Ian were each presented with a gift to mark their 35 and 50 years at GSA respectively and Studio 3 in the Ivy has now been named the Roberts Studio in Peter's honour. Singers from GSA then entertained the guests with a beautiful medley as the party continued late into the evening.
Sean McNamara, Head of GSA, said:
'It was such a pleasure to see so many fellow alumni, former staff and friends of GSA gathered together and sharing stories and memories, and clearly enjoying what was a lively evening. We were thrilled to be able to celebrate at The Deck at The National Theatre and my warmest thanks go to Lisa Burger for hosting us in such a wonderful space.
As I mentioned at the event, these are exciting times for GSA and one of our key aspirations for the future is to lead the way as an inclusive and diverse institution preparing generations of students from a wide-ranging background for work in an increasingly inclusive and diverse industry. We are delighted to have formed a close association with ATG who have supported two new student scholarships this year, and we are delighted to be launching a new Patrons scheme.'
GSA's Patrons scheme is open to all and we hope to see the community in Surrey and local areas continue to support GSA's production programme and many other events. The autumn season has now been launched and you can find full details here.