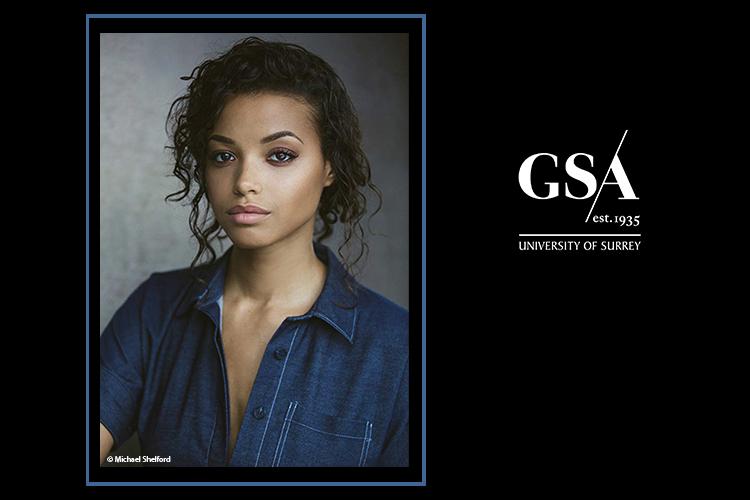 The Ella Balinska Scholarship 2021
GSA is delighted to announce the establishment of the Ella Balinska Scholarship. Offered by GSA graduate and Hollywood actress, Ella Balinska, the scholarship will be a financial award to one first-year student on the Acting BA (Hons) course in 2021, who is part of the Global Majority – a term used to describe people who identify themselves as being from any Black, Asian or minority ethnic background.
The scholarship is intended to provide support and an affirmation of the student's right to immerse in actor training as an individual and is designed to offer time for self-reflection, research and deepening understanding of cultural identity and authenticity in relation to training and their craft.
"I hope that this scholarship will be a part of enabling students of the Global Majority to thrive in authenticity. I hope it encourages other students to broaden their knowledge and embrace their cultural influence throughout their training and into their career. Finding our truth as artists starts by having the opportunity to look at ourselves. Through a deeper level of understanding we can tell real, meaningful stories and honestly reflect the world we live in. As a result, I hope this inspires generations of talent to come; seeing themselves represented throughout the industry."
Ella Balinska trained at the Guildford School of Acting, graduating in 2018, and is known for playing Jane Kano, a leading role in the 2019 Columbia Pictures movie, "Charlie's Angels". A high-profile actor, other films include, "Run Sweetheart Run" in 2020. Ella lives between London and Los Angeles.
Instagram Quote from Ella Balinska
"I don't even know where to start in expressing how overjoyed I am to be announcing the establishment of The Ella Balinska Scholarship at the Guildford School of Acting.

I had the opportunity to go undergo the education, challenges and breakthroughs that drama school training provides actors. I left half way through my final semester in 2018 for work, and returned this year to finally finish and graduate, with the help and support of my tutors. What I did not expect this year, was to witness and be part of a united voice; an entire global movement coming together for change. I have always said that my ultimate goal is to try and inspire others — let my work serve as a way to see the opportunity to follow their own dreams, in whatever capacity, is available for them. This is only a small contribution to the larger conversation and the shift that we need to see in the world. I can at least try to use my platform and start this change through the art we see every day at home in the UK.

Training actors the should feel empowered in their own skin, regardless of their background. Our histories are what make us incredible and unique. I hope this scholarship enables someone to turn on award-winning television, hold their breath through a film, or be transported to another world in theatre and see themselves represented. I want to inspire the kid that I was watching the likes of Freema Agyeman in Doctor Who and feeling like I could accomplish anything. I hope this paves the way to a start a shift in Drama School training that allows artists to thrive in authenticity and have an abundance of resources available to them.

Thank you to all the people I have spoken to who have helped me throughout this process. Every conversation has gone into restructuring and modernising the BA Acting programme at GSA in a way that makes me so proud to be part of this small but necessary change and contribution. Thank you especially to Dom Rouse and GSA for listening and being an ally to aspiring artists across the country. And to future British talent: the power you possess is unstoppable, and hopefully this scholarship is one way we can magnify and champion your potential to the fullest."
Article in The Stage by Giverny Masso
Photograph © Michael Shelford