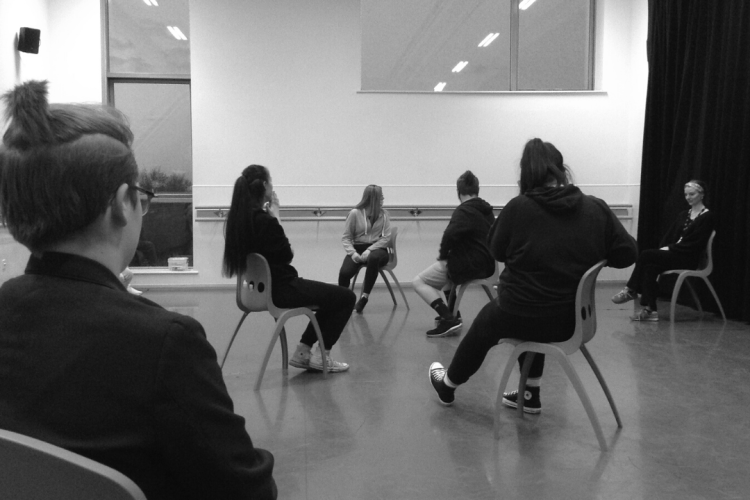 On Friday 25th February 2022, we were delighted to host a workshop with students from Kings College ahead of our Macbeth production. 
Supported and navigated by our BA Applied and Contemporary Theatre first year students, the 22 visiting students from Years 10 and 11 experienced a workshop around their English Literature syllabus text, Macbeth. The workshop was followed by a tour of our professional-standard facilities, delicious pizzas provided by our University of Surrey Outreach Team, and free tickets to watch the evening performance of Macbeth (BA Acting).  
This was a moment for a group of students who have not accessed the arts or theatre, who found Shakespeare challenging and not representative to them as a community, to switch to a positive mindset around "drama". 
"A HUGE thank you to the GSA staff and wonderful student helpers who delivered interactive workshops for our Y10/11 students – we all thoroughly enjoyed ourselves and it was really helpful for students to consolidate their learning of Macbeth. Having the opportunity to see live theatre was also such a highlight for many students and it has really helped to bring the play to life. We hope this opportunity will have a positive impact on their GCSE exams and are looking forward to when we can visit again!"
Emily Ridgley, Aspirations Lead, Kings College Guildford
If you would like to engage with our Widening Participation and Outreach work, please do get in touch with us at gsaenquiries@gsa.surrey.ac.uk